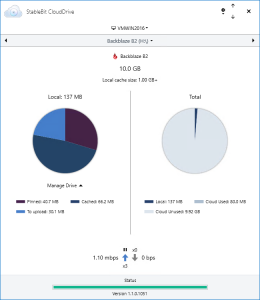 StableBit CloudDrive 1.1.0.1051 Release Final is now available for download.
Get it here: https://stablebit.com/CloudDrive/Download
Full change log: https://stablebit.com/CloudDrive/ChangeLog
What's New Since the last Release Final (1.0.2):
Added support for Backblaze B2.
Added support for Rackspace Cloud Files.
Added support for third party Amazon S3 compatible services.
Added support for OpenDrive (experimental).
Default I/O performance settings for new drives. (see: User Manual)
Bug fixes and optimizations.
The user manual has been updated as well to reflect the new features: https://stablebit.com/Support/CloudDrive/Manual
OpenDrive is Experimental
Upon further testing, it became apparent that OpenDrive has a number of troubling server-side issues that needed to be worked around in order to make it usable with StableBit CloudDrive. All of the issues that were discovered in testing have workarounds implemented in this release. But as a precautionary measure, the OpenDrive storage provider is now marked as experimental. You can still create new OpenDrive cloud drives, but you will have to enable experimental storage providers from the Troubleshooting menu in order to do so.
See the user manual for complete instruction on how to connect to OpenDrive in this release final: https://stablebit.com/Support/CloudDrive/Manual?Section=OpenDrive
Additionally, if you've created an OpenDrive cloud drive with the previous BETA (or the RC), in order to make that drive compatible with one of the above mentioned workarounds, StableBit CloudDrive will have to reorganize your cloud data on the first drive mount.
This reorganization will happen automatically and is an in-place one way upgrade. You won't need to recreate your drives, and everything will continue to work as it did before once the reorganization process completes. But be aware that this reorganization can take a while for large cloud drives (e.g. multi-terabyte drives can take an hour or more to complete the first mount).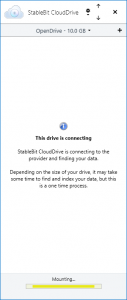 This is the message that you will see while the reorganization process takes place. If the reorganization process is interrupted or fails for any reason, it will resume where it left off on the next drive mount.
Contact Us
If you encounter any issues with this release, you can let us know at: https://stablebit.com/Contact