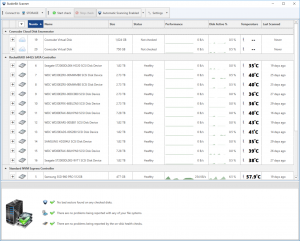 StableBit Scanner 2.5.2.3190 Release Final is now available for download.
Get it here: https://stablebit.com/Scanner/Download
Full change log: https://stablebit.com/Scanner/ChangeLog
What's New Since the 2.5.1 Release Final:
Full support for the NVMe 1.3 specification.
Updated support for ACS-4 and SATA 3.4.
Additional new themes.
Bug fixes based on reported issues.
Now let's talk about some other noteworthy changes since my post about the last BETA.
Pause Scanning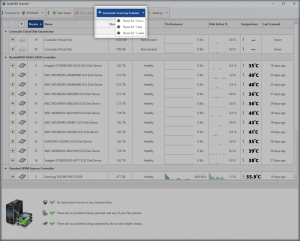 You now have the option of telling the StableBit Scanner to pause scanning for a period of time. Scanning will be disabled for the selected time period and will automatically be re-enabled for you at the end.
If you need to temporarily disable scanning for any reason, rather than disabling scanning entirely, this is a better option to use so that you don't forget to re-enable it later.
New Disk Information Columns
There are 2 new columns that you can enable for each disk, Disk Active % and Last Scanned.
Disk Active % shows you how busy each disk is, with 0% being fully idle, and 100% being fully active. This offers you a quick at a glance view of how busy your entire set of disks are.
Additionally, the Last Scanned column show how long ago the disk was fully scanned. In particular, this takes the time of the oldest scanned block on the disk and show you how long ago that was.
Specification Updates
In addition to adding support for NVMe 1.3, the StableBit Scanner is now updated with support for ACS-4 and SATA 3.4.
Additional TRIM information is also shown, such as whether TRIM is fully enabled and supported by the drive.
SSD SMART Interpretation Rules
This may not be immediately visible in the UI, but SMART interpretation rules (from BitFlock) have also received a large update on the back-end prior to this release. You may start to see SDD life and endurance information for your SATA based SSD where there were none previously.