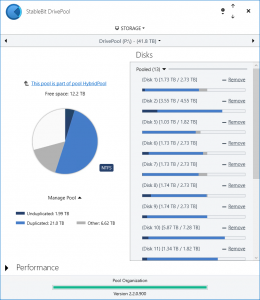 The Release Candidate of the next version of StableBit DrivePool is now available.
Download it here: https://stablebit.com/DrivePool/Download
Compared to the last BETA (2.2.0.881) this version includes optimized performance when dealing with many thousands of open files, a more intelligent mounting process and localization support for 10 languages.
Translations
This release features professional translations to 4 languages: French, German, Italian and Spanish. It also features community translations for: Bulgarian, Dutch, Japanese, Polish and Russian.
If you are a native speaker of any of those languages and you'd like to make corrections to any of those translations, head on over to http://translate.covecube.com and submit your corrections. Don't forget to star your translations because the build system will always pick the translations with the greatest number of votes.
If you'd like to see a new language added, send us a note at https://stablebit.com/Contact. Any corrections submitted will be integrated into the next release final. Thank you everyone who has participated in the translation process thus far, we really appreciate it.
English Fallback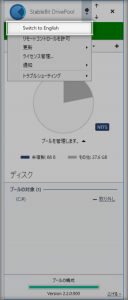 If you find the new translations problematic, you can easily switch back to English by opening Settings and selecting Switch to English.
If you see another issue with the translations that can't be easily resolved, please let us know at: https://stablebit.com/Contact
StableBit CloudDrive RC
StableBit CloudDrive 1.0.2.975 RC is also now available.
Download here: https://stablebit.com/CloudDrive/Download
This is a companion release that improves compatibility with StableBit DrivePool when both are used together, and as always it also includes some bug fixes.
Release Final
Coming up next is the release final and I'll make a more comprehensive blog post about what has changed since the last release final, version 2.1.1.561.
Thank You for 2017
A huge thank you to everyone who has purchased a license, recommended our software to someone else, and supported us throughout 2017. I hope everyone has a great 2018, and we have some really great things planned for this year, so stay tuned.