StableBit CloudDrive 1.0.0.870 Release Final is now available for download.
Get it here: https://stablebit.com/CloudDrive/Download
What's New
There were a number of fixes implemented here since the last 1.0.0.854 RC, some based on user feedback (thank you), and some based on internal testing.
For a full change log, see: https://stablebit.com/CloudDrive/ChangeLog
User Manual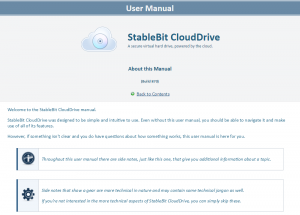 A comprehensive new user manual is now available for StableBit CloudDrive.
Check it out here: https://stablebit.com/Support/CloudDrive/Manual
The FAQ for StableBit CloudDrive has also received a few minor updates: https://stablebit.com/Support/CloudDrive/Faq
Pricing
The pricing structure for StableBit CloudDrive now includes Small Business and Enterprise licensing options.
See https://stablebit.com/Buy/CloudDrive for all of the available purchasing options.
Amazon Drive
Amazon Drive (formerly Amazon Cloud Drive) is now deprecated in StableBit CloudDrive. Amazon has never approved us for use with their service, and as a result, you will no longer be able to create new Amazon Drive cloud drives in this version.
In order to give you access to your existing Amazon Drive cloud drives, experimental drives will continue to mount and work as they did in previous versions.
Going Forward
Once again, thank you everyone who tested the BETA, it was great to get all of that feedback. Today, there are 0 bugs open for StableBit CloudDrive in our system. But that doesn't mean that we're done.
If you do encounter further issues using the software, please let us know at https://stablebit.com/Contact, and we will work on resolving your issues.