StableBit DrivePool 2.0 is now a Release Candidate!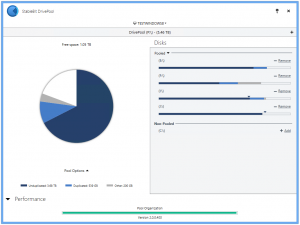 Download here: http://stablebit.com/DrivePool/Download
This build will be pushed via. automatic updates to everyone using the BETA within 24 hours.
What Exactly is a RC?
As far as StableBit products are concerned a Release Candidate is built exactly like a Release Final. The idea behind having a RC is to test the Release Final build process. It's simply a Release Final that has been renamed to a RC. A RC can be promoted to a Release Final with no rebuild.
This means that the trial BETA rules no longer apply to RC builds. Your days remaining on the trial will not reset when installing subsequent RC / Release Final builds.
What's New Since the Last BETA
This build has a number of miscellaneous fixes and tweaks since the last BETA. Localizations are mostly complete for the following languages: Spanish, French, German, Polish, and Italian.
As always, you can check out the full change log for the details: http://stablebit.com/DrivePool/ChangeLog?Platform=win
StableBit.com Updates
User Manual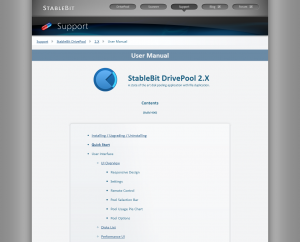 There is a new comprehensive user manual now available for StableBit DrivePool 2.x here: http://stablebit.com/Support/DrivePool/2.X/Manual

If you like reading manuals then you should definitely check it out, it took a lot of work to put together.
PayPal
The PayPal payment system was updated to use PayPal's latest API in order to get rid of the old and somewhat clunky "PayPal for digital goods" API.
Google Checkout
Google Checkout (or Wallet) is being retired by Google in November (see: https://support.google.com/checkout/sell/answer/3080449?hl=en), so we'll be phasing that out soon. It will probably be replaced with Amazon payments at some point in the future.
The Bundle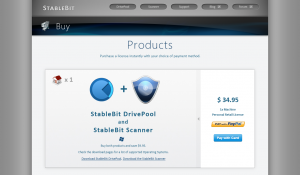 This has been requested quite often. If you've never purchased either the StableBit Scanner or StableBit DrivePool you can now easily buy both with the $9.95 discount without buying each product individually.
There are also links on your order page that make it easy to buy additional copies of a product with the additional unit discount.
How far We've Come
The first BETA of StableBit DrivePool 2.0 came out on Feb. 1 2013, and here we are in the beginning of September 2013 with a RC. All in all, I think we've made pretty good time considering the scope of this release.
Here's a list of all of the supported Operating Systems that StableBit DrivePool 2.0 runs on:
64-bit Consumer:

Windows Vista (64 bit), Windows 7 (64 bit), Windows 8 (64 bit), Windows 8.1 (64 bit)

64-bit Server:

Windows Server 2008 (64 bit), Windows Server 2008 R2 (64 bit), Windows Server 2012, Windows Server 2012 R2.

32-bit Consumer:

Windows Vista (32 bit), Windows 7 (32 bit) Windows 8 (32 bit), Windows 8.1 (32 bit)

32-bit Server:

Windows Server 2008 (32 bit)

64-bit Windows Server Solutions:

Windows Home Server 2011, Windows Small Business Server 2011 Essentials, Windows Storage Server 2008 R2 Essentials.
Windows Server 2012 Essentials
Windows Server 2012 R2 Essentials
I've highlighted what StableBit DrivePool 1.X supports. As you can see, that's a lot of new Operating Systems that we now support. Plus, we have the brand new remote control system that lets you manage your pools from other computers on your LAN (without the need for a Dashboard).
The Price
StableBit DrivePool 1.0 Release Final came out on April 2 2012, almost 1 and a half years ago. It was a great release and it was priced at a very affordable $19.95. Since then we've added a ton of new features, including the balancing framework, multiple pool support and everything that you see in StableBit DrivePool 2.0. All of these new features come at no additional cost to our existing customers, and we're not done yet.
We've added a lot of value to StableBit DrivePool since that first release, and I feel like we need to bump up the price a bit to reflect that. But don't worry, nothing has changed yet. The price won't be increased until a release final is published.
The future price increase does not affect our existing OEM partners. You will continue to be able to purchase client licenses at the negotiated rate.
Thank You Everyone
Thank you Christopher for offering outstanding technical support to our customers.
And thank you everyone for your great support of our products, but the best may be yet to come. Post 2.0 we may yet see some really amazing game changing features in StableBit DrivePool, if everything goes according to plan.
As always, if you like our products I ask that you spread the word. I think that StableBit DrivePool 2.0 turned out really well and I'm sure that there are many people out there who have never heard of it and may benefit from using it.