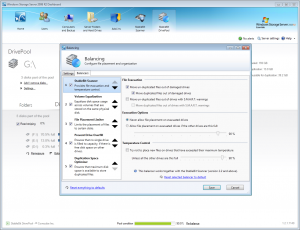 StableBit DrivePool 1.2.1 is now available as a Release Final build.
Download: http://www.stablebit.com/DrivePool/Download
What's New
Here are the highlights of this release:
A new flexible balancing framework that lets you organize your pool your way.
Fine grained balancing settings let you precisely control when to re-balance.
With the layered plug-in based balancing algorithms you can apply multiple balancing rules to your pool.
3rd party balancing plug-in support. Anyone with .NET programming experience can write a new balancing plug-in.
We've written some plug-ins already:

Integration with Scanner 2.2+ allows for file evacuation and temperature control (built-in plug-in).
Use your SSD as a landing zone for new files on the pool with our optional 'Archive Optimizer' plug-in.

A rewritten real-time file size tracking system. It's faster and more accurate.
Various drive removal improvements and other fixes.
Translation to Polish.
The heart of this new release is the new balancing framework. Essentially we have multiple plug-ins that can interact together to define a balancing model that is capable of controlling real-time file placement and background re-balancing. I won't go into more detail here since I've already discussed this in great detail in some of my previous posts.
Download balancing plug-ins here: http://www.stablebit.com/DrivePool/Plugins
What's Next
DrivePool 1.3 BETA will be released for public testing in the next few days. It has everything from DrivePool 1.2.1 in addition to multiple pool support. DrivePool 1.3 is a significant update to DrivePool's back-end including the file system and the virtual disk system.