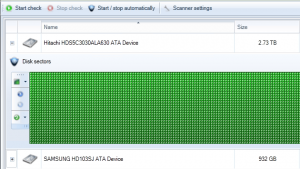 StableBit Scanner 2.0 is now a Release Final.
It is available for the Windows Home Server 2011 and similar operating systems.
Get it here:
What's New Since 1.0?
Here's a summary:
A brand new UI.
Updated for Windows Home Server 2011, including GPT disk support.
Disk control allows you to adjust on-disk parameters such as power management and acoustic management settings.
Improved Scanning engine that utilizes Background I/O Â that is part of the new Operating System.
Overhauled SMART interface, combined with an updated BitFlock back-end.

StableBit Scanner 2.0 - SMART

SMART improvements include:

New types of interpretation rules, knows about more hard drives and SSDs.
More control over the on-disk SMART warnings, allowing you to ignore a Warning or get notified if the condition gets worse.
Lifetime and recent temperature history, read from the on-disk SCT data, with an option to change the collection interval.

Updated recovery engine that can recover multiple damaged files at a time.
See it for Yourself
What's Next?
Deep DrivePool integration is coming up next.
This will be very cool and extensive. Scanner will have full control over file placement in DrivePool and will be able to automatically manage damaged disks.
The wheels are already in motion on this.
We need to add some new APIs into DrivePool in order to make this happen, and these new APIs will be super easy to use and will be fully exposed to 3rd party developers. This will allow anyone to build DrivePool plug-ins that do all kinds of interesting things.