For those of you in the United States, it's Independence Day.
Here at Covecube we've made something special for the Windows Home Server 2011 on this day.
Here's a Fourth of July Fireworks add-in!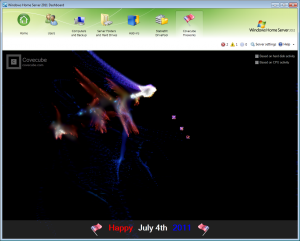 Download:Â Covecube.Fireworks_1.0.0.1.wssx (121 KB)
SHA1:Â c4645bb4775bd5fae994444454f58db66af6b79f
Features:
Displays a spacial message every year on the 4th of July.
User can enable an option to vary the Fireworks intensity based on disk activity and CPU usage.
Requirements:
Windows Home Server 2011 or Windows Small Business Server 2011 – Essentials
Happy Fourth of July!