StableBit Scanner 1.0.0 for the Windows Home Server is out of beta. It's available for purchase immediately.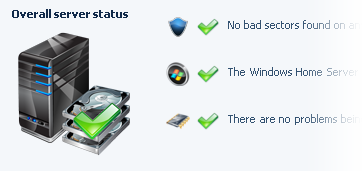 The StableBit Scanner is designed to monitor all your hard disks and inform you at the first sign of trouble, before the problem gets out of control.
It's fully automatic, just install it and it goes to work diligently making sure that every bit on all of your disks is readable. At the same time it tries hard not to interfere with other processes, so as not to slow down your computer.
Some of the Features
Continuous disk health monitoring via. surface scans, S.M.A.R.T. and Windows Home Server health.
USB pass-through for supported USB enclosures in order to view S.M.A.R.T. data.
Cloud integration for up to date S.M.A.R.T. interpretation data and USB pass-through support.
Sophisticated disk throttling including USB bus saturation detection.
Overheat protection with temperature equalization.
Full understanding of the various on-disk data structures, including a built-in NTFS parser in order to find damaged data and files and show the user a detailed health report.
File recovery in case of damaged files using the Scanner's built in knowledge of NTFS.
See stablebit.com/scanner for much more.
Beta Testers – Thank You
Thank you everyone for helping test the StableBit Scanner 1.0.0. Those of you who opened cases @ stablebit.com/contact regarding the Scanner during the open beta period have received a 50% discount towards the purchase of a retail license. Just open your contact URL and you will see instructions on how to redeem it.
If you've opened multiple cases, you have received multiple discounts. You can use one of them for yourself and share the others with someone else if you'd like. Just remember, each discount URL can only be used once.
What's Next
StableBit DrivePool development will kick into full gear now.